| | | |
| --- | --- | --- |
| a website dedicated to the music of Sarah McLachlan | | |
| | | |
| --- | --- | --- |
| | Welcome to the sea of waking dreams, a Sarah McLachlan website built by Julian Dunn. There's a lot of info here; most of the stuff directly below this paragraph is for those already acquainted with Sarah's music, however do not despair! Take a look at this facetious look at how to become crazy about Sarah's music (or skip to the serious intro) Then, you too can clog up your formerly well-functioning hard disk with millions of Sarah JPEGs and RealAudio concerts. :) Enjoy yourself, whether new or longtime fan! (Hint: This page looks best at about 800 x 600 resolution) | |
| | |
| --- | --- |
| | Please see Pollstar to check the dates for Sarah's 2004 tour schedule.. |

Locate the lyric of choice in two easy steps with this form. Pick an entire album's lyrics to view, or choose a particular song. You need not specify an album if you specify a song.
This engine will now also deliver lyrics to songs Sarah has covered. Just search for the name of the applicable song.
Fumbling-Towards-Ecstasy, the mailing list, was founded shortly after the release of Sarah's third album of the same name. It was created as a basis for discussion of Sarah's music, but has evolved into more of a community for fellow Sarah fans to have intelligent discussion about pretty much anything.
The list's official homepage is at fumblers.org, and I also have an unofficial one here with resources for listmembers, as well as a form for you to subscribe to the list.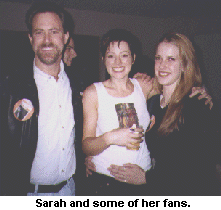 I'm trying to keep the number of links here to a minimum, because you can always check the webring if you are looking for a comprehensive list of Sarah pages.
This search engine is powered by ICE Version 1.5b3r2 (March 2000).

Copyright © 1995-2003 Julian C. Dunn - Last updated Sunday, 31-Oct-2010 11:23:46 PDT - Powered by PostgreSQL
Special thanks to my friend Brian Wilson who provided a lot of high-res images for the site.